This homeowner took very good care of their home, but after 25 years some changes are due.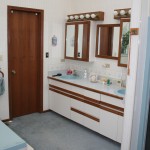 The home is a modern design with tall angled ceilings.  By adding soffits, we were able to add character and make the room feel less open without losing all of the ceiling height.
The most interesting feature we found was the toilet sitting out in the open, just inside the door to the bathroom.  We were able to use all of the existing plumbing in the remodel, enclosed the toilet in its own compartment and gave the homeowners more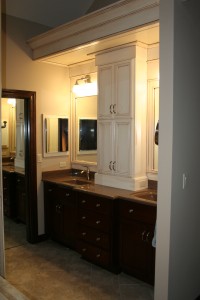 storage space with updated features and looks.
We gutted the bathroom, replaced the original shower with a toilet compartment, added a linen cabinet, replaced the over-sized blue bathtub with a smaller jetted tub and a large walk-in shower with multiple shower heads and a seat.  Of course, the carpet was replaced with a field tile.  We added more cabinetry and you can see that we used one color for the base and another for the upper accent cabinet.  All of the trim was painted to match the upper cabinet.
Because of the soffit over the sink area and enclosing the shower with a ceiling, the room doesn't feel soooo tall and expansive.
The homeowners love their rain shower head, and the kids don't want to use their own bathroom, even though it was recently remodeled as well!
To see more pictures, visit the album on our Facebook page, and give us a "like" if you haven't already!
Let us know if we can help you update your outdated kitchen or bath!